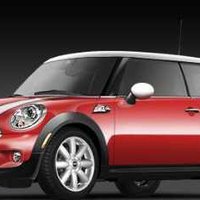 I've been planning to get a MINI Cooper S for months now, and I finally put a deposit down and placed an order this morning. The picture you see is from the MINI web site, where you build the car you want. Mine should look just like the picture.
The MINI is unlike any other car I've ever seen. For starters, they redesigned things for the 2007 model year, but didn't actually introduce that car (in the US, at least) until February of 2007. On top of that, not all the options were available. If you wanted things like automatic transmission, the navigation system, or satellite radio, you had to wait varying lengths of time until cars with those options would start being produced. What's holding me up is the Sirius radio, which is not going to be built into the cars until July.
Most people are concerned with how small the MINI is, but for me it's an upgrade from my 1999 Miata. The backseat is small, but at least there's a backseat. And the trunk (they call it the boot, since the car is made in England) has a whole lot more room than the Miata.
The car should be at my dealership sometime in late July or August. You can expect many, many more pictures then.
---
219 Words
2007-04-20 11:34 -0400
---