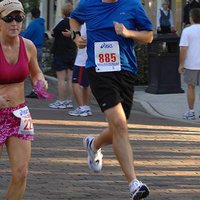 Last Saturday, Michele and I ran in the Winter Park Road Race 10k (6.2 miles). I ran a little faster than normal, which is typical for a race (having a bunch of people running with you makes you speed up a bit). I finished in just under an hour and was pretty proud of myself. That is, until I checked out the rest of the finishers. I finished about 80th of 120 in my age bracket (30-35). The top finisher in my age group finished in 34 minutes, which means he ran about twice as fast as I did!
But then I got to thinking that, really, most of the people in my age range were asleep Saturday morning while I was running. I think particularly in a 10k (as opposed to a 5k), a lot of the participants are athletes. So now I'm telling myself that I was really competing against athletes, so I didn't do that bad. Maybe I'm wrong, but don't shatter my reality.
And a special note for johnmcelroy … the course took us by Lake Maitland, where I saw the UF Crew team putting in their boats in. I would've yelled out a "Go Gators!" but I'm pretty sure I would've collapsed.
---
207 Words
2007-03-29 19:54 -0400
---